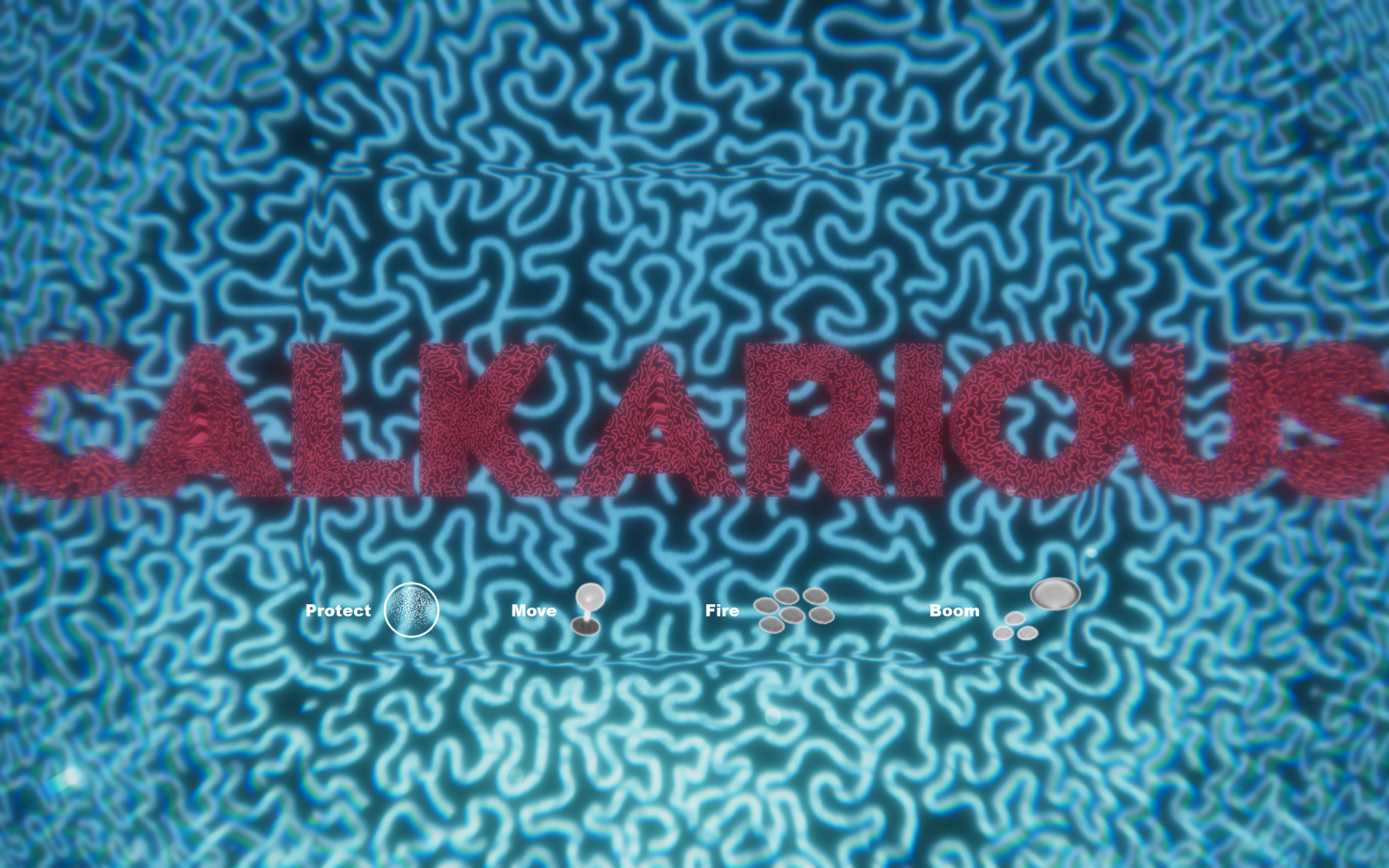 Calkarious
A downloadable game for Windows and macOS
Calkarious is a cooperative top-down shooter where two players must defend a powerful brain coral under constant siege by bioluminescent creatures.

Set inside a massive sphere of water in deep space - Calkarious
involves rapid decision making and quick maneuvers as players struggle
against 6 different colored enemies.

Each enemy can only be killed by a shot matching its own color, and players
will need to constantly switch up their attacks to survive.

A third player can even take control of the brain coral itself (with the mouse), and change its color to absorb similarly colored enemies. Absorb enough enemies, and you'll be able to release a devastating pulse attack.

The brain coral can only take three hits before its destroyed. Work
together to defend this magnificent coral for as long as possible and
achieve the highest score.

--------------------------------------------------------------------------------------------------

Controls (PC/Mac):
Wired USB game controller (Xbox 360 recommended)
Attack - A, B, X, Y, LB, RB
Thrust - Right Trigger
Reverse - Left Trigger
Switch Brain Coral Colors (mouse) - Left click, middle mouse button, right click
Brain Coral Movement - Move the mouse
Pulse Attack - Press all three mouse buttons simultaneously
--------------------------------------------------------------------------------------------------
THE INDIE GAME JAM, PRESENTED BY SCHICK HYDRO
This game was created as part of "The Indie Game Jam, presented by Schick Hydro" in partnership with Playcrafting. This groundbreaking 48-hour, indie game jam took place in New York City from November 17-19. During the jam, 20 of the rising stars of independent game development created games based on the theme of Schick Hydro's mission: to "protect and defend." The games will be showcased in a custom arcade – "The Indie Game Jam Arcade" – at the Microsoft Theater in Los Angeles at The Game Awards 2017 on December 7th.

--------------------------------------------------------------------------------------------------
Credits:

Calkarious was developed in 48 hours as a collaboration between three independent game studios in New York City:

Install instructions
Controls (PC/Mac):
Wired USB game controller (Xbox 360 recommended)

Attack - A, B, X, Y, LB, RB
Thrust - Right Trigger
Reverse - Left Trigger
Switch Brain Coral Colors (mouse) - Left click, middle mouse button, right click
Move Brain Coral - Move the mouse
Pulse Attack - Press all three mouse buttons simultaneously